May 12, 2016
Life of the Congregation (1)
Our Daily Bread
However voluminous it may be, the Correspondence of St Michael Garicoits, for a Betharram religious, it is not a simple reference book...
"[The correspondence] connects [St Michael] with all those who have entered under his personal orbit. His letters and words prolong his actions amongst us." It is the perfect source of the spirit of the Founder and the food necessary to live according to his charism in all its richness and its depth.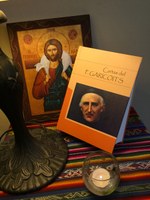 So far there was a Spanish translation which could be printed on paper if needed. And now in this beautiful month of May comes a magnificent book thanks to the work of the late Father Miguel Martinez Fuertes scj, who some years ago had launched this huge undertaking, then Father Angelo Recalcati scj got down to the complete revision of the three volumes, the translation of the notes, the whole culminating in the translation. Finally thanks to Fr Gustavo Agin scj who undertook another thorough reading of the text before printing. Fr Giancarlo Monzani scj. chose the outside cover.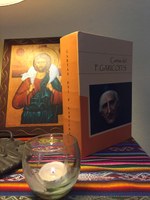 The Regional Superior, Fr Gustavo Agin, says that the SCJ Religious who would like a copy of the correspondence may request it by email (gustavoagin@yahoo.com.ar).
The correspondence in Spanish in one volume:
over 1000 pages, available in two editions: hardback or paperback
1 Cf. Introduction to the Correspondence of saint Michel Garicoïts, Pierre Miéyaa scj, Vol. 1 (p. 13 in French edition)