Sep 23, 2008
Sister Mariam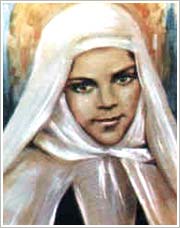 There she grew daily in humility and fidelity, and in an impressive life of prayer was favoured with numerous mystical graces.
Taking the name of Mary of Jesus Crucified,
Where she played a great part in the recognition of the Congregation of Betharram.  Fr Estrate of the same society was chaplain to the sisters.  In 1875 at the insistent request of sister Mariam, the Bishop agreed that the constitutions of the Institute be presented for official approval in Rome.  This happened on the 30th July.
A month later, Mariam returned to her native land
Against all expectation, she obtained permission for the Fathers of Betharram to be their chaplains
Fr Etchecopar
Among these, one must not forget in 1878 the foundation of the community in the Holy Land, a project designed by God and undertaken by the humble Palestinian Carmelite, sister Mary of Jesus Crucified.